What Is the Business Referral Network of Irvine?
The Business Referral Network of Irvine is a group of motivated business owners and professionals with various backgrounds and experiences.  Each member holds exclusive ownership of their business category and there is no conflict with other members' businesses. All members actively work to generate qualified business referrals for each other, which turn into sales and ultimately more revenue for their businesses.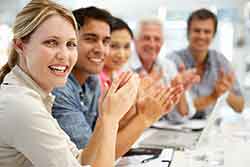 Here is how The Business Referral Network of Irvine can help you expand your business:
* You get to talk about your business at each meeting, giving you ample opportunity to "train" your new-found "sales force" about your products and/or services and the kind of referrals you are looking for.
* Qualified business referrals are given at each meeting, and often before the meetings via email or phone notification. It is common to see 50 referrals exchanged each week in this dynamic group.
* Members provide access to clients you would not otherwise be able to contact.
* On a pre-determined schedule, you are able to display your products and/or services; then the next week you speak about your business, putting the spotlight on you and your business.
 * Our group meets on a weekly basis and regular attendance of all members is required to keep the constant flow of business referrals.
* Meetings always begin and end on time so that you can confidently plan your work schedule.
* Many of the members of our referral network have been able to save the expense of maintaining a sales staff or advertising budget due to the consistent volume of business they receive from the group.
* The members of the Business Referral Network of Irvine welcome proactive, productive people who want to see results in their business growth.
* We meet every Wednesday from 11:15-12:45 at Mimi's Cafe (4030 Barranca Pkwy), in Irvine.
Contact us for information about becoming a member.